DH2 WIRELESS GATEWAY

Serial Interface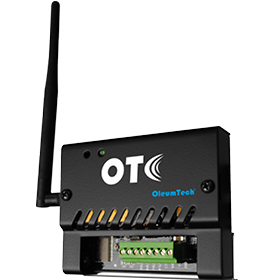 HIGHLIGHTS
Wirelessly gather/distribute sensor data

Map I/O anywhere within the network

Modbus master/slave functionality

1x configurable Serial port (RS232/RS485)

Class I, Division 2 (Zone 2)

-40 °C to 80 °C

900 MHz or 2.4 GHz radio option

Secure AES encryption

DOWNLOAD DATASHEET
Primary Data Collection Point

The OleumTech® "DH2" Wireless Gateway plays an integral role in the OTC Sensor & I/O Network by being able to wirelessly collect critical process data from OTC nodes including Wireless Transmitters, I/O Modules, and other Gateways. The data is stored in its 1920-point Modbus register holding table.


Serial Interface

With the provided RS232/RS485 configurable Serial port, the DH2 can virtually interface with any third-party Modbus device either as a Modbus master or slave device. The DH2 can also be configured as a LevelMaster ASCII slave or ROC Link master. OleumTech offers Serial I/O Expansion Modules for use with the DH2 for added functionality.

Peer-to-Peer Advanced Networking

In the OTC Sensor Network, multiple Wireless Gateways can be placed into the same network to form a much larger sensor network. All Gateways can have their own set of end nodes and they have the ability to communicate with other Gateways in the network. With this powerful advantage, you can setup a sophisticated I/O distribution system and migrate data with extreme flexibility, scalability and ease.