DH3 WIRELESS GATEWAY

Ethernet & Serial Interface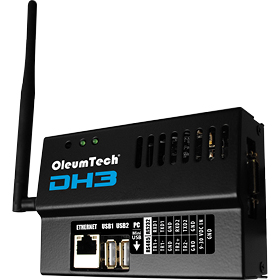 HIGHLIGHTS
Wirelessly gather/distribute sensor data
Map I/O anywhere within the network
Modbus master/slave functionality
Ethernet connectivity facillitates IoT and IIot implementation
2x Configurable Serial ports (RS232/RS485)
Data logging capabilities / web server
Class I, Division 2 (Zone 2)
-40 °C to 80 °C
900 MHz or 2.4 GHz radio option
Secure AES encryption
Optional local display available
DOWNLOAD DATASHEET
Primary Data Collection Point

The OleumTech® "DH3" Wireless Gateway plays an integral role in the OTC Sensor and I/O Network by being able to wirelessly collect critical process data from OTC nodes including Wireless Transmitters, I/O Modules, and other Gateways. The data is stored in its 1920-point Modbus register holding table.

Data Logging Capabilities

The DH3 offers both event-based data logging and time-based trending/logging capabilities. The data can be stored onto its internal RAM (volatile) or onto an optional industrial-grade Micro SD card (non-volatile). Trend graphs are accessible via the DH3's web server.

Peer-to-Peer Advanced Networking

In the OTC Sensor Network, multiple Wireless Gateways can be placed into the same network to form a much larger sensor network. All Gateways can have their own set of end nodes and they have the ability to communicate with other Gateways in the network. With this powerful advantage, you can setup sophisticated I/O distribution systems and migrate data with extreme flexibility, scalability, and ease.

Ethernet + Serial + Local Display Option

Equipped with an Ethernet and two configurable Serial ports, the DH3 can interface third-party Modbus devices as a Master and/or Slave for delivering data to the cloud. OleumTech offers Serial I/O Expansion Modules for use with the DH3 for added functionality. An optional touchscreen LCD display is available to instantly view process data and access device settings. The local display requires no user configuration.